This will be the second year we will be cooking gfcf. For those who don't know what that means, it's gluten free-casein free. While Amanda is now able to have some dairy in her diet, she must steer clear of all gluten. To play it safe, I decided to stick with these recipes we used last year. They are quite good, and even I can't tell the difference between regular and the alternates.
Two recipes I used are for GFCF Stuffing and GFCF Pumpkin Pie. I'll post pictures along with the recipes from the original authors.
Dan's Wheat Free & Dairy Free Pumpkin Pie Recipe (Parve) courtesy of Dan Swearingen

Corn based piecrust

Makes two 10-inch pie shells
2/3 cup margarine (Shedd's Willow Run Soybean Margerine)
1/2 cup sugar
2 1/2 cups crushed corn flakes (Nature's Path GF CF "Honey'd Corn Flakes") – a bit over one full 10.6 oz box of cereal.
Notes: I've specified brands that, to date, have proven to be okay to use. Many brands of margarine HAVE dairy products in them. Check the ingredients carefully. Almost ALL "corn flakes" have wheat in them. Nature's Path is an exception.

Crush corn flakes to a coarse to fine meal in a food processor. A blender should be able to do this too. I suppose you could just pound at it in a sturdy bowl but this may be the real excuse to buy a food processor! I use an attachment for my blender. The finer the better but you'll find you can't really turn it into a powder (but it'd be nice if you could!).

Melt margarine and pour into a large bowl. Stir in sugar. Add crushed corn flakes.

I find mixing it all up with a pastry cutter works best but almost nobody has one of these anymore. Pastry cutters were for "cutting" big blocks of butter or margarine into flour and that kind of cooking is so non-PC these days even the tools are now hard to find.

Anyway, if you don't have a pastry cutter, use a pair of butter knives and mix the melted butter/sugar thoroughly into the corn meal. Divide all but a little bit of the mix into the two pie dishes.

I then gentle the mix into a pie-shell shape using a lid from a plastic food container. You could also use the bottom of a small bowl. Start soft and then as the shape and amount are about right start really pressing it down.

If you find any thin spots, add the bit of mix you left in the bowl to cover it. Set the pie dishes aside in the refrigerator.


Dairy Free Pumpkin Pie filling

Makes two nine inch pies
1 cup sugar
1/4 cup tapioca mix (Minute tapioca works best)
1/4 cup tapioca flour (or omit and double the Tapioca Mix above)
1 tsp. Salt
1 tsp. Ground cinnamon
1 tsp. Ground cloves
1/2 tsp. Ground ginger
4 large whole eggs
2 large egg whites
1 can (29 oz.) Libby's 100% Pure Pumpkin
3 cups Rice Dream rice milk (soy is OK too if you like it)

Preheat oven to 425 degrees. Mix sugar, salt, cinnamon, clover, ginger, and tapioca into a small bowl.

Beat eggs in a large bowl (I use the main mixing bowl for my big mixer) and then add the canned pumpkin. Running the mixer, add the sugar/spice mix, lastly add the rice milk. Mix thoroughly.

Pour into the pie shells. Bake at 425 degrees for 10 minutes, turn down to 350 degrees (maybe open the oven door for a sec to let some heat out), turn the pies a bit if spots of the crust are burning, and bake for another 20 to 30 minutes.

The usually you say a pumpkin pie is "done" if you can stick a knife in the center and nothing sticks when you pull it out. That doesn't work with this recipe since it isn't doesn't make a pie that solid (when hot out of the oven). So, I say the pies are done if he center is not completely liquid. If you care, the pies solidify nicely when refrigerated overnight.
Here are our finished pies: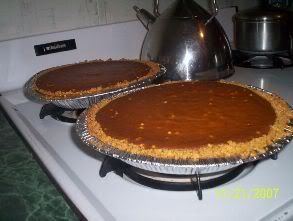 You can see the tapioca pearls in the pies, so I hope they taste as good as they look!
Thanksgiving Stuffing (Gluten-Free) courtesy of Scott Adams, Celiac.com

5-6 cups cubed and dehydrated Food For Life Rice Almond Bread
2 Tbs. olive oil
3 cups chopped celery (or 1-2 Tbs. celery seed)
2 cups chopped onions
1 tsp. salt
1-2 tsp. cilantro
1-2 tsp. thyme
1-2 tsp. sage
black pepper
1-2 Cups gluten-free Chicken Broth

Prepare 1 to 2 cups gluten-free chicken broth. Prepare Food For Life Rice Almond Bread as follows: Cut into ½ cubes and put in food dehydrator for 8 hours (or put on cookie sheet and in oven on the lowest temperature for about 2-3 hours - I've been able to increase the temperature to 300 degrees and dry for about one hour or so in the oven).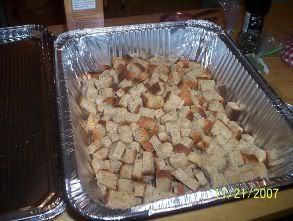 Sauté chopped celery & onions in 2 TBS oil in large frying pan over medium heat until soft. Add spices & pepper as desired to taste. Pour in chicken broth & simmer over low heat for 15-20 min.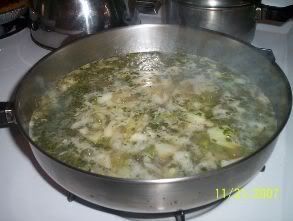 Stir in bread until fully saturated in sauce & seasonings *note, I add the broth, onions, celery and seasonings to the pan of dried bread. It's much easier to mix*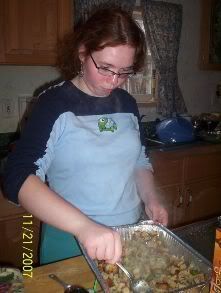 Place in 400°F oven for 40-50 min, covering as needed with aluminum foil, until done. If you want to cook the stuffing inside the turkey add only 1 cup of Chicken broth.
I always make this recipe the day before, just to get it done. Same with the pies above. I also figured since I'm making this for Amanda, she might as well be the one to do most of the work, LOL!!