I'm very proud to report the results of Achievement Night. As we knew, Amanda took 2nd place as Top Exhibitor in our county fair, and Gretchen took 1st place. Amanda also took 3rd place for her poster on "Grow In 4-H". That was a fierce competition, as she went up against clubs; hers was the only individual entry. A wonderful surprise was Gretchen received the Jensen Award. This award is the highest honor in our county for outstanding service to the community. She won for all the service projects performed with the club and on her own. This is also the first time this award has been given to a member of the Insects Are Us club. The girls also placed in the top five for their Green Forms, which gives the description of what they accomplished over the year.
Some pictures from last night:
Amanda with her 2nd place check for Top Exhibitor
Third Place poster award: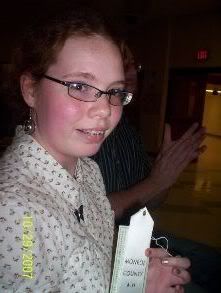 The "Gang" with their goodies: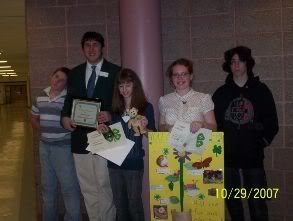 From left to right: David, Michael, Gretchen, Amanda, and Greg
(Amanda is holding her 3rd place poster, which was placed in a local supermarket for one week for judging. Gretchen is holding the 4-H bear, which was also given to her as an award for cutest pumpkin in the "Grow in 4-H" theme)
Michael is on the 4-H State Council, has served as county ambassador, and is a fine representative of what 4-H is all about.
Congratulations to all!