Today is a sad day. My daughter's guinea pig, Pippin, died earlier. She had never been sick before, so it was unusual when Amanda found her this morning displaying signs of illness. Guinea pigs usually go down pretty quickly, and I was grateful she died at home, instead of having to put her down.
Here's a picture of her from August, eating one of her favorite foods: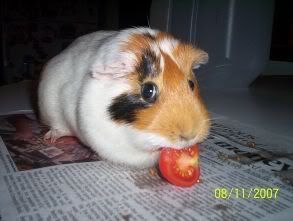 Farewell Pippin, you will be missed.